4 April 2009 – Elder Joseph W. Sitati of Nairobi, Kenya was called as a General Authority of the Church to the First Quorum of the Seventy. He had been serving as president of the Nigeria Calabar Mission when called. Since joining the Church in 1986, Elder Sitati has served in numerous callings, including branch president's counselor, branch president, district president, mission president's counselor, stake president, Area Seventy and mission president.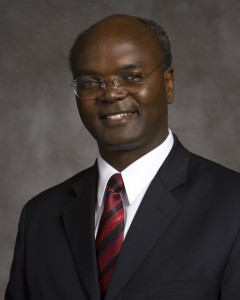 Elder Sitati earned a bachelor's degree in mechanical engineering from the University of Nairobi, a diploma in accounting and finance from the Association of Certified Accountants and has also done course work for an MBA degree. He has worked as an executive for a nongovernmental organization and in several positions with a large oil and gas company. More recently he served as the Church's international director of public affairs in Africa. Elder Sitati and his wife Gladys Nangoni are the parents of five children.
See http://www.newsroom.lds.org/ldsnewsroom/eng/new-general-authorities-and-auxiliary-leaders-called
He is the first Black African General Authority of the church. Other church leaders of Black African descent have served in the Seventy quoroms. The others were Elder Helvecio Martins from Brazil who served as a General Authority from April 1990 – September 1995 in the Second Quorum of the Seventy, and Elder Elijah Abel, an African American, who was ordained in 1839 to the Third Quorum of the Seventy.